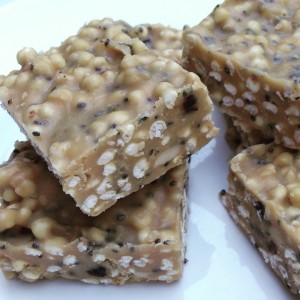 gluten free, dairy free, vegan, paleo, raw
There are a number of different variations and option for these bars, which I will include in my recipe book for those with diet sensitivities or food preferences, etc… In the meantime, here is one basic recipe. Feel free to substitute almond butter but I've used cashew butter here as I like to give almonds a break. Full of protein, healthy brain food fats and fibre. 

no-bake chewy cashew fudge bars
5-10 minutes to make plus thirty in freezer to set or a few hours in fridge, even better the next day
1/2 cup cashew butter

1/2 cup coconut butter

1/4 maple syrup

1 c quinoa puffs (or kamut, spelt or millet puffs)

1/2 – 2 tbsp chia seeds

1 tbsp currants (or raisins, but i like the smaller size of currants)

1 tbsp hemp seeds (inside or sprinkle on top)

optional – 20 almonds chopped
Melt coconut butter first on low heat, then add cashew butter and mix. (If your cashew butter is already soft you don't have to keep the pot on the heat.) Use whisk to be sure all of the ingredients mix well.
Add remainder of ingredients and stir. Use spatula and pour in air tight container and store in fridge or freezer. Enjoy