This recipe was born years ago using whole spelt flour, so, by all means, substitute it for my gluten free flour blend if you have no gluten sensitivities. And keep in mind, spelt flour is the grandfather of wheat and is grown differently (hulls on) then regular wheat, is easier to digest and is therefore, often tolerated by gluten intolerant people. (More about wheat here.)
Little helpers, if available, are highly recommended. (Let them feel they are contributing, and their help is important and appreciated!)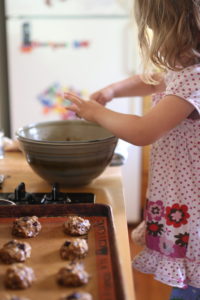 The coconut oil does lend a slight coconut taste to the cookies. I find often, in baking or cooking, coconut oil goes undetected, but most will say they can taste it in these cookies. So if you do not like the taste by all means substitute another oil, perhaps refined, high-heat, non-GMO organic sunflower oil. I bought some the other day and used it for this batch as my coconut oil had not arrived and I couldn't wait any longer. I personally love the taste of these cookies with the coconut oil, but they are also great with sunflower oil. Try both and see which you prefer. 
I'm a less is more person so if you need more chocolate, feel free to add another 1/2 – full bar of dark, organic chocolate or add cacao nibs, instead. I choose dark chocolate because it is dairy free and it more about the chocolate (cacao) than the sugar. I will never buy or eat chocolate that lists sugar first. Having said that, if you are a sweet addict, you may want to add another 1/4 c of coconut palm sugar. I, personally, can't stand tasting sugar first – I want to taste the oats and other ingredients – so we prefer our treats to be less sweet. 
gluten free, dairy free, nut free
oatmeal chocolate chunk cookies
375º oven; makes approx 30 cookies
• 3 c gluten free flour* (or whole spelt flour)
• 2 c gluten free rolled oats
• 1 1/4 c unrefined coconut palm sugar (or date sugar)
• 1 c virgin coconut oil (or sunflower oil, as detailed above)
• 3 large eggs
• 1 dark, 70 or 85% 100g dark chocolate bar, chopped into small chunks and pieces
• 1 tbsp pure vanilla extract
• 1/2 tsp salt
• 1 tsp baking soda
• 1 tsp baking powder
* I like to mix up my gluten free flour blends to avoid getting sick of the same taste. Here I used 1 cup sorghum flour, 1 c oat flour (or brown rice flour) and 1 c Bob Red Mills gluten free all purpose flour mix, but feel free to change it up. Be sure to drop the flour into the measuring cup, either with a spoon or by placing the cup into the flour bag and pushing the flour to fall into the cup. If you scoop the flour using the cup, you will pack down the flour and will therefore use more then 3 c of flour, which will result in a dry cookie. This applies to not only all of my recipes but all recipes. You never want to scoop (drag) a cup into the flour, packing the flour down. 
MIX
• flour, oats, salt, baking soda and baking powder with a whisk in a medium size bowl
BEAT
• the coconut oil in a large bowl (if it's too hard to beat you may need to melt on low heat); add the sugar and beat together, then add the eggs & vanilla extract, mix and combine
ADD
• the dry to the wet ingredients using a danish whisk (the best to mix dough without getting stuck inside as it does in a traditional french whisk)
STIR
• in the chocolate chunks/pieces
SPOON
• approx 2 tbsp dough and form a ball; place on cookie sheet (lined with silipat) or stoneware cookie sheet and gently flatten the top with fingers
BAKE
• for 10-15 minutes, depending on your oven (I baked for 13 minutes today)
Place cookies on a cookie rack and allow to cool before gobbling up. Enjoy! (And enjoy feeling good after.)