After experimenting with this recipe, I now know that eggnog is all about the spices. Because, this was good. And there is no egg in this nog. Or nog. (I don't know what nog is.) Since it's all about the spices, go fresh and grate if you can.
I'm making this for my kids today for after school. It would also make a great drink to serve guests. 
Don't be discouraged by the banana, it was pretty much undetected. If you don't have a frozen banana, then chill mixture before serving or add some ice before blending.
Freeze the extra coconut milk in ice cube trays  (1 cube = 2 tbsp). Use in chicken dishes, smoothies, etc… 
Extra presentation points if you use cinnamon sticks as straws (kids love it).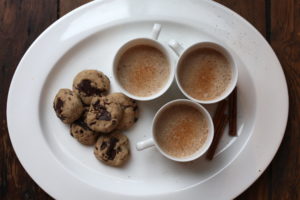 gluten free, dairy free, vegan, soy free, nut free, guilt free, bloat free
vegan eggnog 
makes 3 cups
• 1 frozen banana (or banana + approx 5 ice cubes)
• 1 cup non-dairy milk (almond, rice, etc..)
• 1/2 c coconut milk (stir before as you want the cream and the milk)
• 1/2 tsp vanilla extract (or 1/4 tsp vanilla powder, or one 1-inch piece of vanilla bean pod)
• 1 tbsp amber maple syrup
• 1 medjool date (or another tbsp of maple syrup)
• 1/2 tsp cinnamon
• 1/8 tsp nutmeg (the round whole spice in photo, above)
• pinch of ground cloves
• 3 cinnamon sticks (buy the long sticks, if you can)
Put everything in a high speed blender. Serve with cinnamon sticks straws (some work better than others) & grated fresh cinnamon on top. If you didn't use ice or frozen banana be sure to chill it before serving.
Enjoy!