I used to call this recipe 'Christmas Day waffles' (only because I first made them one Christmas morning) but they were so delicious my kids wanted them regularly, so now they are Saturday morning waffles. 
I used to make them with whole spelt flour, so feel free to substitute if you have no gluten sensitivities. I've experimented with a lot of different homemade gluten free blends (oat and sorghum flour worked well). But my favourite for this recipe is the packaged Bob's Red Mill All Purpose Gluten Free flour (not the 1:1 gluten free flour the same brand, which contains xanthum gum, which I find leaves a wet, gummy texture).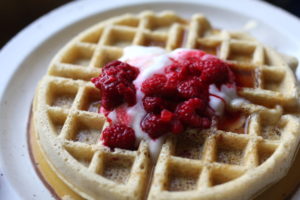 TRY IT WITH DAIRY FREE (OR NOT) BUTTERMILK 
For the record, I often use plain non-dairy milk (with success) simply because I have starving children watching my every move and creating buttermilk is one extra step that might not be worth hearing moans of starvation. But it really doesn't take that long. It's more about remembering to squeeze a lemon into the milk at the beginning and allowing it to sit while you prep everything else. Buttermilk, combined with baking soda, creates carbon dioxide gas which makes high-rising, light, tender, sometimes fluffy and sometimes with a subtle taste of tang, baked goods. You can create your own by adding 1 tbsp of lemon juice or vinegar to 1 cup of milk (or any dairy free milk) and let it sit for 10 minutes until it has thickened a bit. It will curdle just as dairy milk would. (Mixing 3/4 c yogurt with 1/4 c non dairy milk also works. It's the acidity mixing with the baking soda that is important.) 
gluten free (or not – your choice), dairy free, guilt free
waffles
makes 15, 6″ square waffles
• 3 c Bob's Red Mill All Purpose Gluten Free flour (or whole spelt flour)
• 3 1/4 c milk (or buttermilk)
• 3 large eggs
• 1/2c – 3/4 c oil (I use high heat avocado oil for it's ability to withstand high heat without breaking down – many waffle irons are around 400º); use 3/4 c for extra brown and crispy
• 1 tbsp baking powder
• 3/4 tsp baking soda
• 1/2 tsp sea salt
These are really quite quick to prep…
Make the buttermilk right away if you're using it.
Mix the dry ingredients together with a whisk in a large bowl.
Mix the wet ingredients.
Add wet to dry. Mix until the ingredients are just encorporated, do not over mix. 
Then follow instructions as to how much you put in your waffle iron.
Top with plain yogurt (coconut or dairy). This is my favourite brand, by far – contains no corn byproducts or crap, and doesn't have a strong coconut flavour…

…fresh or frozen berries (my kids love them frozen) and amber maple syrup (best bought from a local farm or market). Enjoy!